---
June 21, 2003
Pavel Bém, the Premier Mayor of Prague,
assumed the aegis over the Action this year: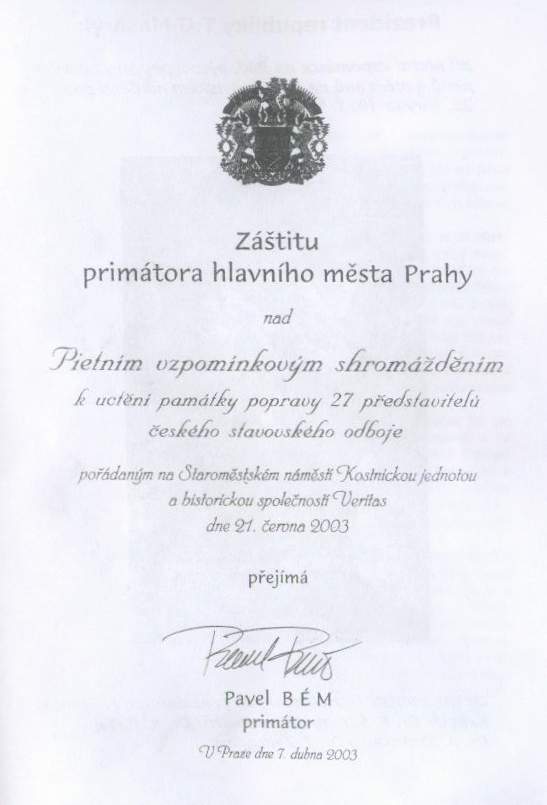 The President of the Czechoslovak Republic T. G. Masaryk
during the memory of piety on the 300th anniversary of the execution of the Czech Lords and Burgess' at the Old Town Square June 21, 1921.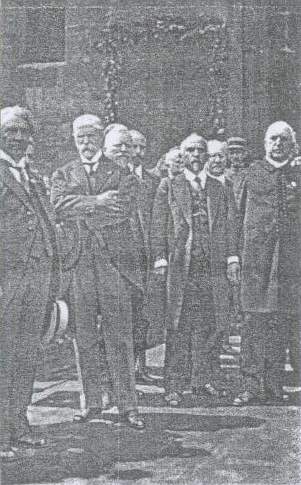 From the left side: minister G. Habrman, behind the President F. Staněk, chancellor Dr. P. Šámal, then ministers Dr. A. Rašín, Dr. A. Stránský and Dr. I. Zahradník
For the freedom of conscience and confession
the article by Prof. Dr Josef Smolík (not yet available in English)
The Old Town Square in Prague on June 21, 1621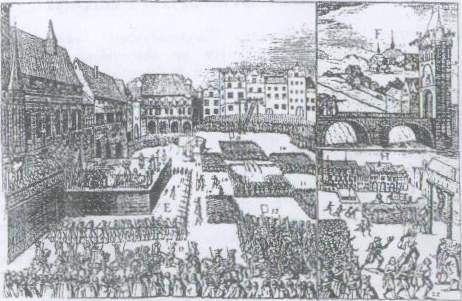 Sentenced to be executed:
Jáchym Ondřej Šlik, Václav Budovec of Budov, Kryštof Harant of Polžice and Bezdružice, Václav Kaplíř of Sulevice, Prokop Dvořecký of Olbramovice, Bedřich of Bílá and Řehlovice, Jindřich Otta of Los, Diviš Černín of Chudenice, Vilém Konecchlumský, Bohuslav of Michalovice, Valentin Kochan of Prachová, Tobiáš Štefek of Koloděje, Kryštof Kober of Kobersberk, Jan Šultys of Feldsdorf, Maxmilián Hošťálek of Javořice, Jan Jesenius, Jan Hauenschild, Leonard Rüppel, Jan Kutnauer of Sonnenštejn, Simeon Sušický of Sonnenštejn, Natanael Vodňanský, Václav Maštěřovský of Jizbice, Jindřich Kozel of Peclínovec, Ondřej Kocour of Votín, Jiří Řečický, Michal Witmann, Šimon Vokáč of Chýš
---
The Invitation
to the meeting of piety
Held
under the aegis of the Premier Mayor of Prague MUDr. Pavel Bém
on Saturday June 21, 2003 at 18 o'clock
in the St Nicholas Church at the Old Town Square
Program
Opening Talks: delegates of the Town Council of Prague and Deputies of the Chamber of Deputies of the Parliament of the Czech Republic
Lecture to the anniversary: Mgr. Pavel Černý, writer Dagmar Štětinová
Short talks of the offspring of the executed: PhDr. Jan Vodňanský, Viktor Sušický of Sonnenštejn
Concert
By: Čeněk Pavlík (violin): J. S. Bach: Adagio from Sonata in g-minor
Magda Bělohlávková (soprano), Jan Bernátek (organ): J. Haydn: Air of the Oratory "The Creation of the World"
Šárka Pokorná (violin), Jitka Horáčková (guitar): N. Paganini: Sonata in a-minor
Moderator: Ing. Miloš Šolc
Putting flowers to the Memorial Board of the Executed
in front of the Old Town Hall with talks of delegates of some corporations
The Memorial Meeting is held by: Unity of Constance, Historical Society VERITAS, CHC in Prague, Corporation of the Natives and Friends of Town Žatec, Offspring and Relatives of the Executed at the Old Town Square, Czechoslovak Community of the Legionaries, Masaryk's Corporation, Slavonic Board of the Czech Republic, Sokol, Scout etc.
Voluntary entrance fee
---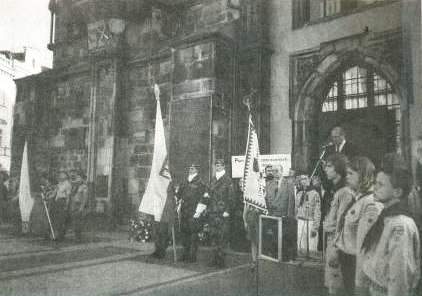 Photo: Evangelic Weekly Sparks of Constance 88, 2003, No. 28, p. 4.
---